Most of our breeding dogs are retired between 3-5 years of age. They stay with the same family that took them home, through our Guardian Program.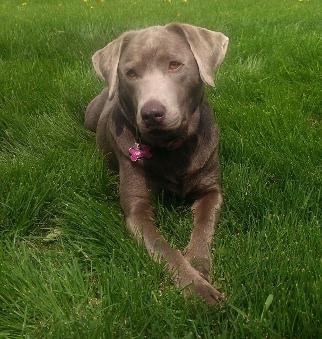 Gummy found her furever home before she even had her first litter with us. She had two lovely litters, her first being a rainbow litter that included black, chocolate and yellow pups.
Two of her granddaughters are now a part of our Guardian program.
It is safe to say that her beautiful genes will continue to live on at Starstruck! This beautiful silver girl loves humans, swimming, snuggles and doing her famous "bunny" pose.
She has retired with her human family in Calgary. Thank you Gummy Bear for being a wonderful mom!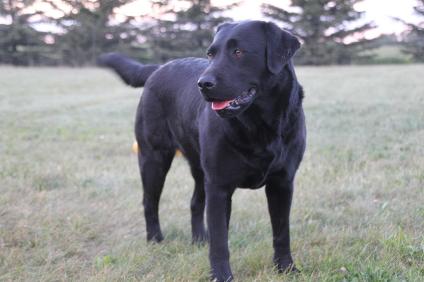 Sophie's two daughters, although from different litters, will be joining our breeding program when they grow up - we hope!

Sophie has such a gentle, soft, and loving nature, it was hard to let her retire But we have to keep moving on to the next generation if we want to keep improving while we go!
Thanks to Sophie's family, who also has Sophie's half-sister at home, in Calgary.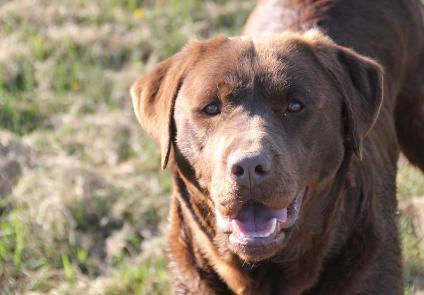 Tootsie had one stunning chocolate litter with Chewbacca before retiring with a wonderful home in Strathmore.

We kept two daughters, Candy Crush and Hersey Kisses, to carry on this family candy name tradition, and fantastic genetics too!
With a heart of gold, and a tail that could clear a coffee table, we hope to see plenty of Toots' endearing characteristic in the next generation!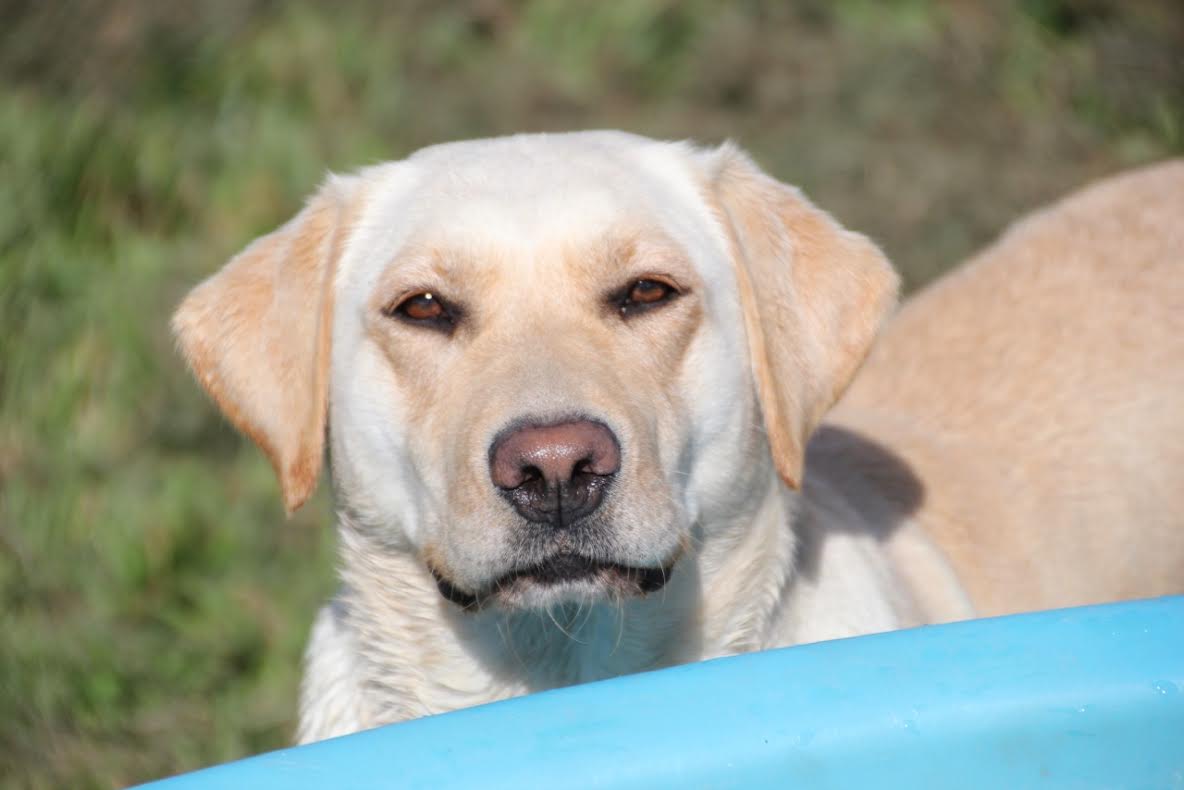 With just one litter, of two puppies, Sweet Pea made it pretty clear that she didn't like babies that much, and she really wasn't that fond of her boyfriend, in the first place!

But that is okay! We were lucky enough to keep her one daughter as a guardian pup, and we hope that she will be able to carry on Sweet Pea's bloodlines in the future.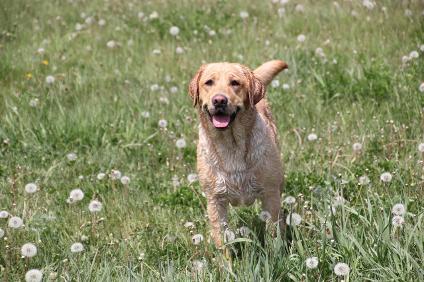 Ruby was the first female, after her own mother Lacey, to have more than two litters before her retirement!

Ruby has several young daughters we have carefully selected for our guardian program, and we can't wait to see what wonderful grandpuppies will be born in the coming years!

Ruby's family had so much patience, sharing their dog with us. There are many families across the country, who join us in saying, "THANK-YOU!"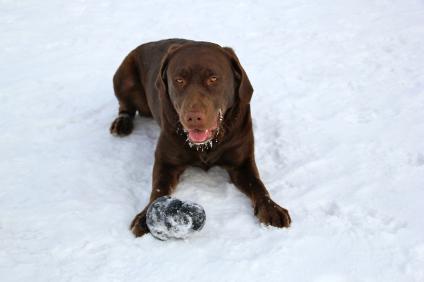 Puddin had just the one litter, when Preciosa was born, before she retired.

I guess you could say that Puddin' was faithful to one man, for her whole breeding life! Chewbacca and Puddin' had a beautiful litter of chocolate pups who have been making all kind of trouble for their families .... snoring, stealing hearts....
We are so thankful we got to have a litter of puddin' pups before you began your career as a professional pet, thanks Puddin'!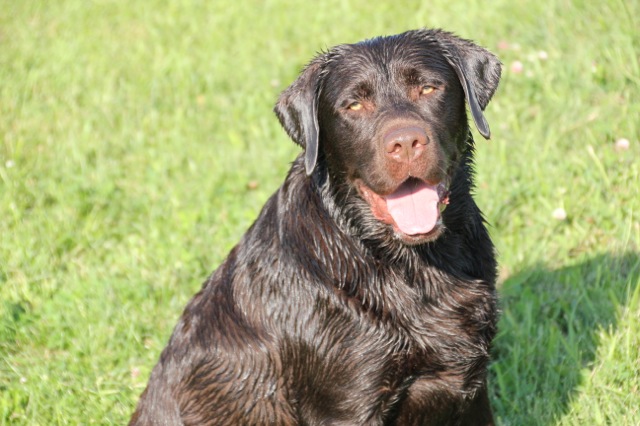 Born here at Starstruck, Padre only got to have one litter with Lacey before retiring. He is a stunning male, very tall and strong, with an outgoing personality and a charm that would knock your boots off!

Padre enjoys retirement with his family who have had him since he was a pup, through our guardian program.
Keep up the hard work, Padre, you make us look good everywhere you go!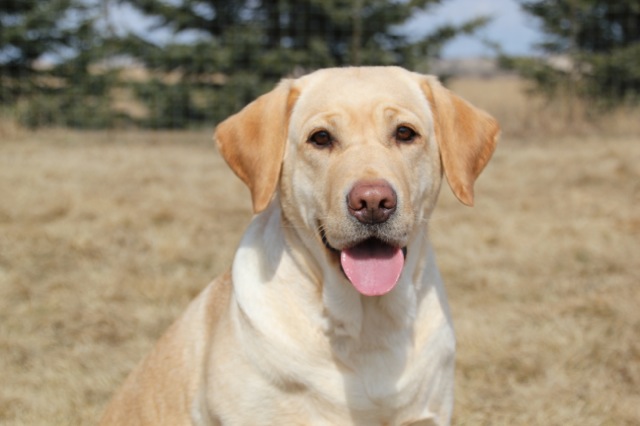 Monet born to the only litter we had born at Starstruck ... while their dad lived in California ...!
Monet enjoyed having puppies very much, and leaves her two daughters with Bullwrinkles to carry on her gentle nature.

Who knows? By the end of 2017 we might get to see Mona Lisa's puppies, making Monet a grandma!
In the meantime, she enjoys retirement with her wonderful human family in Alberta.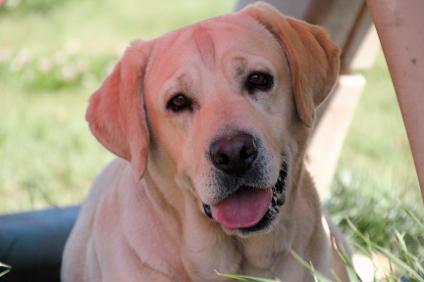 Retiring much later than her sister, Ginger, Lacey just loved being a mother! She was never as happy as when she was nursing a new batch of little ones.

She leave a huge legacy, with many daughters now starting to make their way into the breeding program, now that they are old enough to become mothers themselves.
Our breeding program wouldn't have been the same without you, Lacey!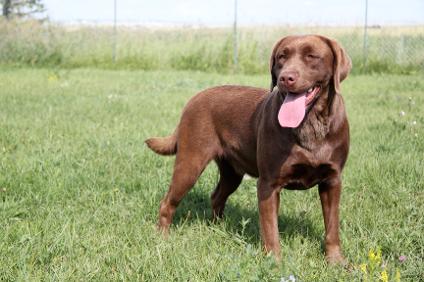 Folo, like her mother and grandmother before her, was a great Mom. With Puddin' and now a grandpup or two to continue her good genes, she enjoys the spoiled life with her family.

She has one grand-daugher in the guardian program, who we hope will be having pups for us in 2018! That will be a sixth generation birth for us!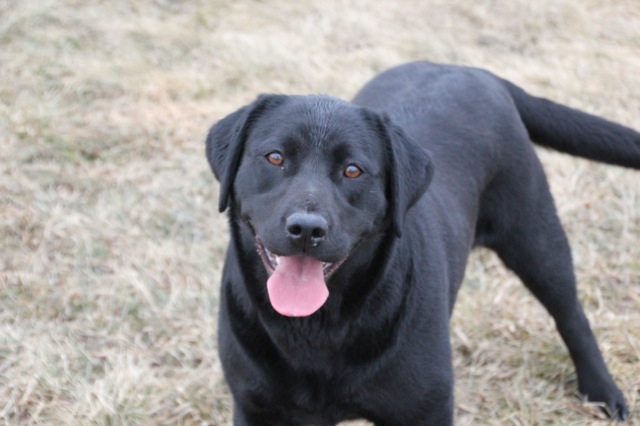 Ah! What a shame for us! After one litter, Jazmine's family decided they would miss her too much, and so she retired with them in Calgary.

Luckily, we were able to keep two of her daughters in our guardian program!
With any luck, Jazmine's bloodline will continue to bring families all the love in the world in 2018.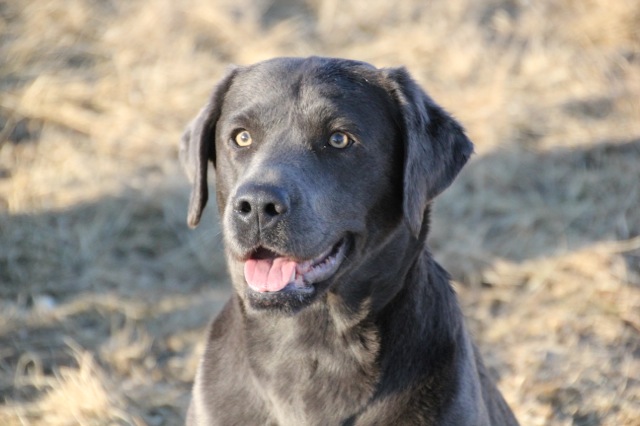 After two litters for us here at Starstruck, Minerva made it pretty clear that she would rather be playing ball, than mothering toothless babies!

So Minerva got to hang up her breeding shoes, so to speak, and stay home with her family in Calgary.
But look out! She has two daughters in the guardian program who might just make her into a Grand-dogger one of these days!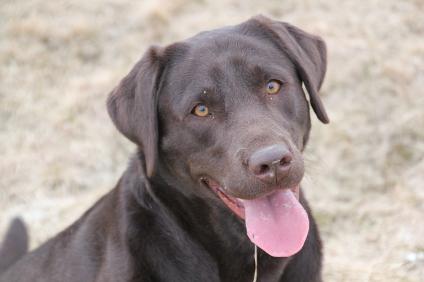 Born at Starstruck, to Angie and Papa, Biscuit is the proud Mom to several young females who are now part of our guardian program, like Maggie, and Moon!

Although Biscuit's daughters are not chocolate, her grandpups could be! She has passed on her excellent mothering instincts, and we can't wait to see what the next generation brings!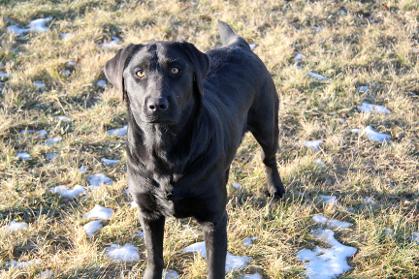 This gorgeous female retired after securing her genetic imprint at Starstruck!

Bred to Bamm Bamm, Gemini gave us a beautiful charcoal daughter, Sagittarius. Saga, we call her, will be the first to make Gemini a Grand-dogger in Summer 2016!
Saga was followed by a couple younger sisters, who Gemini had with Bullwrinkles! Hopefully they will be making their debut in 2017.

Meanwhile, Gemini is enjoying retirement with her wonderful human family. Thanks for your amazing mothering, Gemini!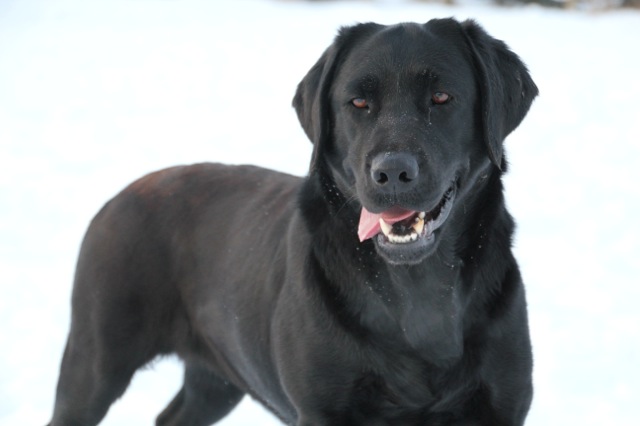 Kalamata retired after having just two litters, both with Bullwrinkles! I guess she could only ever love, but one man!

In her paw prints, Kala leaves behind a gorgeous pup from Bullwrinkles who just might make her into a Grandmother in 2017!
An avid hunter, Kala can likely be found out in the Prairies any time its Open Season, enjoying her retirement! You will have to look hard though, she moves fast out there!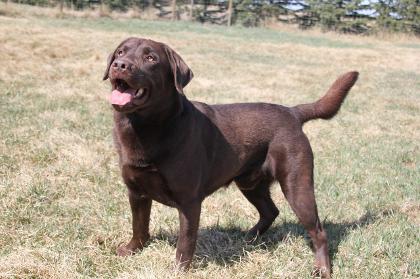 Virgo has retired as a very lucky man! In a Guardian Home since he was a pup, Virgo has gotten the dream life! Running wild with the horses, as he takes his human for trail rides, and then he got to come here for a visit with all the lovely lady-dogs!

Virgo has a few pups who will (hopefully) be taking over from their old man! He is the proud father of Ruby, and has just become a grandfather, in time for his retirement!

Thanks Virgo!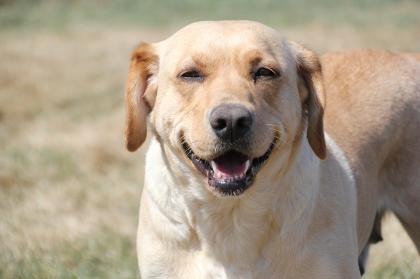 Keisha, always full of love, retired with eleven puppies of her own, and then, she went on to adopt a younger litter of eleven who needed a wet nurse!

Funniest thing about Keisha, is that she wasn't meant to be ours! She was on her way to New York when she ended up with us, by mistake, more or less!

Are we ever grateful to Keisha, and her wonderful Guardian Family who missed their dog (so sorry) while she stayed nursing adopted pups!
Well done, Keisha!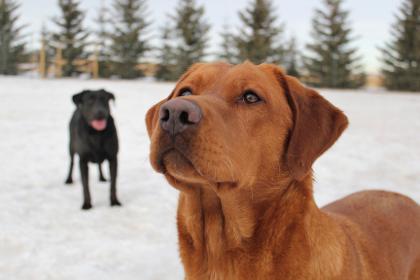 Jelly Bean retired with a BANG! She and Bullwrinkles gave us a large litter of yellow pups, allowing us to keep back two young females to (hopefully) take over for their mother!

Jelly Bean's oldest daughter, Gummy Bear, made her a Grandmother the day that Jelly Bean's last litter went home!

Thank-you for allowing us to keep a bit of your spunk, JB! You have your mother's smile!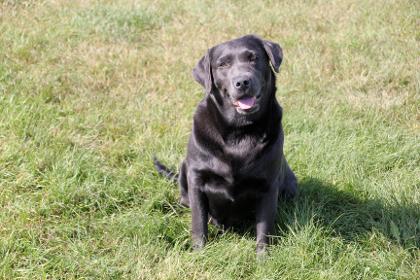 Finding her furever home before she even had her first litter with us, Stormy has been working her way into retirement since the birth of her first litter!

Spoiled rotten by a lovely family in Alberta, Stormy's bloodline will continue in several lovely youngsters we hope to see pups from in 2016!

Enjoy your snuggles, and belly rubs, with your most favorite person in the world!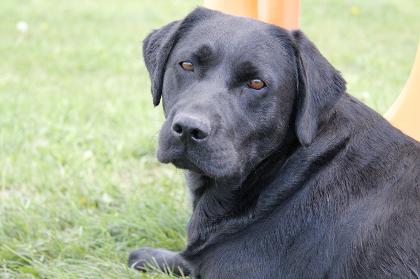 Oh! What a sad day... when Olive retired at six years of age (a new record for the oldest!)
Olive has given us more litters than any other lady! When DNA/genetic and orthopaedic perfection meet with a heart of gold and soul of a saint, it is hard to let go and have her spayed! Carleton cried....
Still, we have kept Kalamata, Mafia, and a few youngsters from Olive, hoping to find another mother even half as good as she was.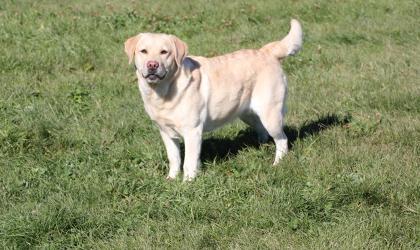 Ginger was, and always will be, just perfect! Her "happy to see you" wiggle is a heart-warming dance that we are certainly glad we took!
Ginger and her sister Lacey came to us together, but retired separately. Ginger did not have an easy time being a mother, so she retired with her guardian family in Calgary.
Before she retired though, we did manage to keep a few of her pups with Bond!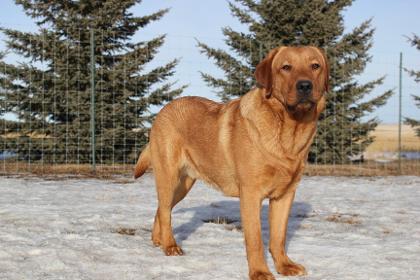 Ernie was one lucky guy, for a long time! Ernie was certainly one of our most-used studs in 2013-14!
Ernie has may young pups growing up with their Guardian Families, and in the not-so-distant future, Ernie is going to be a Granddogger!
Although we are going to miss our Big Red Dog, Ernie has welcomed a furless puppy into the world with his most favourite humans. We don't expect he will miss us as much as we will miss seeing his handsome face around!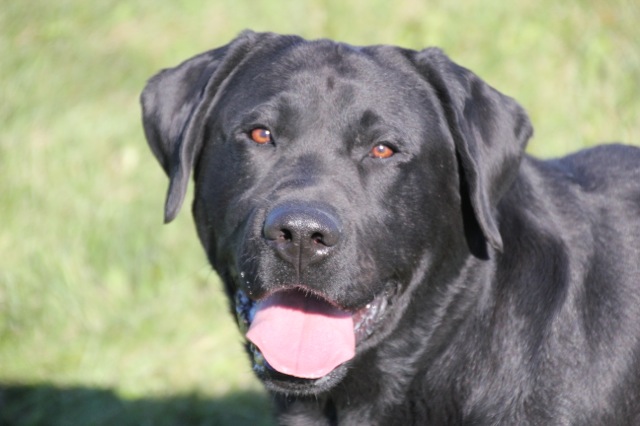 What a handsome boy! Bond retired at the old age of only two years old!
He had only one litter with Ginger, from which we kept a few pups back!
So before you know it ... at about four years of age, this handsome boy is going to have a batch of grandpuppies!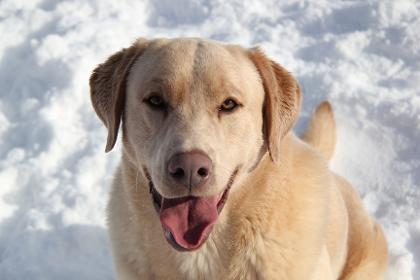 Mungo was a perfect gentleman, with only one litter, he had but one love before he hung up his ... um, "hat"!
Mungo has sired one litter for us with Lacey, and two of his pups have been held back in our Guardian Program.
With any luck, Mungo will get to see his first grandpups born in 2017!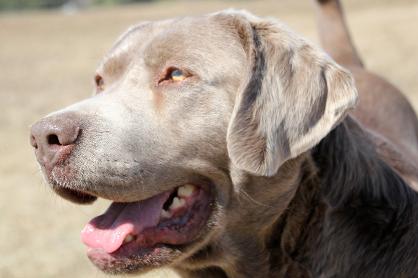 "What a HANDSOME BOY!" - Said anyone who met Bonita, a beautiful mother and great companion!
Retired in perfect view of the Rocky Mountains, Bonita now lives with her favourite person in the world; her soulmate on two legs!
She is also rumoured to be hand-raising her very own son, a handsome young black stud who will be giving Boni some gorgeous grandpuppies one day ...
But not too soon!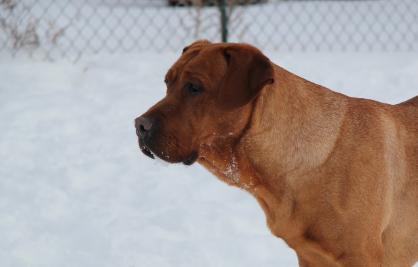 A Chitto Daughter, Rose had just two litters before retiring with a lovely family who lives near by.
Rose gave us a couple of gorgeous pups to carry on her line, and that awesome red colour too!
Enjoy being a professional snuggler Rosey! We look forward to seeing some baby redheads from Rose's kids in the future!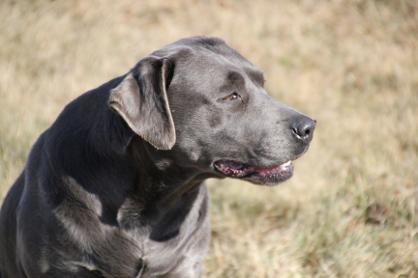 Our Beloved Juno was with us from the beginning!
As one of the first pups we bought, Juno was an amazing dog, and LOVED being a mother!
Juno has given us a few fantastic youngsters to keep her amazing genetics alive for years and years to come!
Juno will have great-grandpuppies due in Summer of 2015, while she enjoys her retirement in rural Alberta with a family who loves her silly!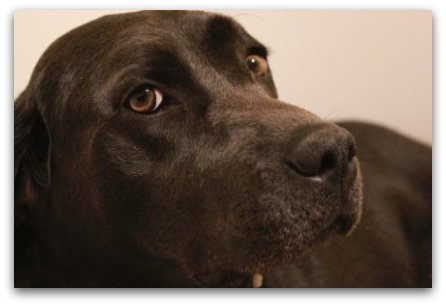 Our lovely Carbyn has left us for a beautiful family near Calgary!
Carbyn had only two litters before we kept back a few of her kids that will be producing some fantastic grandpups for this girl in the near-future!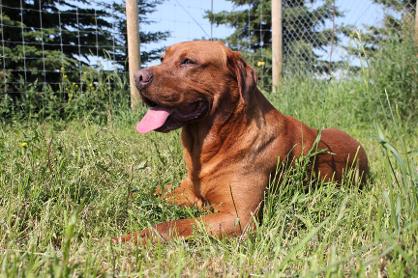 Keisha's father, Chitto had a short career with us as a stud, but leaves behind a lovely line of red heads to keep his amazing genes alive!
This handsome Big Red Dog live with a wonderful family in Alberta, and enjoys holding down couches, snuggles and being the center of attention!
He also took home with him, a son from Jelly Bean who we call Dorito Nacho Cheese!



Although Boon Doc never really lived with us, he was a big part of our breeding program for a couple of years!

"Booners" is the father of both Olive and Jelly Bean! Now he is the granddogger of Kalamata and Gummy Bear ... and in 2014 he became a GREAT-granddogger!

Thank-you for all your love and sweetness you brought to our puppies Boon Doc!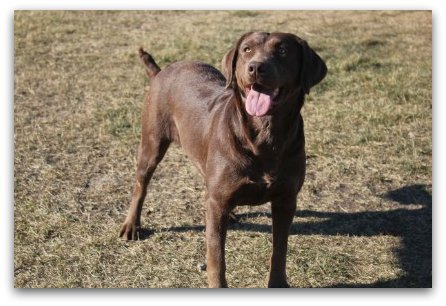 Besi came to us all the way from California, was bred to a US champion stud, and retired in BC! So I guess you could say that she always had her eye on the greater picture!

Although we will miss Besi greatly, we hope to see her first Grandpuppies in Summer of 2015, so there will always be a peace of Besi with us!

Enjoy the nicer weather our West Besi! We are so happy you found a place to retire that doesn't have to put up with all this snow in the Winter!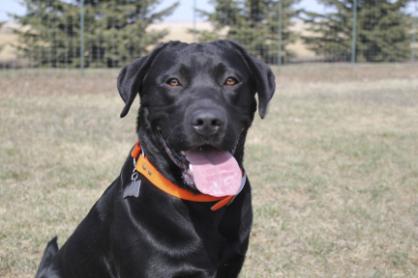 Born to Bullet and Chariot, we actually sold Fred as a puppy to a pet home ... but when his family asked us if we wanted to breed him, we couldn't resist!
In a short visit, Fred became a dad to Gummy Bear, Zipper, and Oxide!
In 2014 Fred is going to be a Granddogger!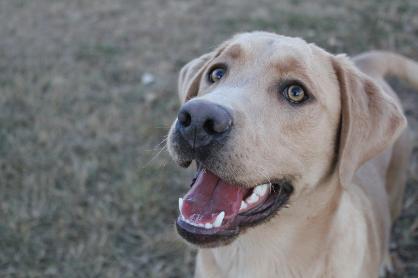 Although he was never short, stubby,and never sang, "Hi-ho", Grumpy leaves behind a mischievous couple of miniature versions of himself ... Thing One and Thing Two!

Grumpy has retired with his family in the beautiful Rocky Mountains ...perhaps he can be found working away, looking for diamonds in the rocks ... but more likely, he is just holding down a couch!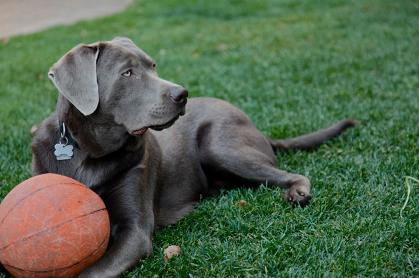 This studly fellow was born to Raven and Bullet.

Although some lucky guys are only retired after several litters, Bamm Bamm had just one litter with Gemini before calling it quits ... what can we say, he just got it right, the first time!
His daughter, Saga, will be making her "old man" into a Grand-dogger in Summer of 2016! We can't wait to see how handsome the next generation gets!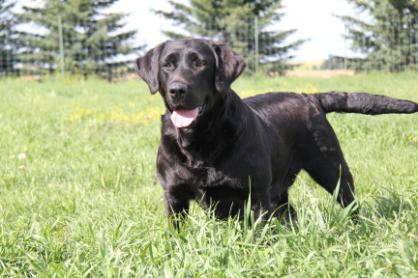 Raven was a great mom! Although she loves being a dog, playing, and snuggling much more than mothering!
After a beautiful litter with a nice champion stud, Raven left behind three beautiful pups to continue on her line before retiring to a family in Alberta.
Raven's son, Bond, will make her a grand-dogger in the near future!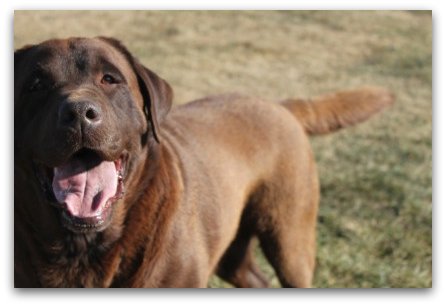 DP's Running on Faith was his name, and handsome puppies was his game! De Papa retired to a home with a few dwarfed-like dogs, who didn't seem to grow past the puppy size ( terriers!)

Papa leaves behind seven pups to continue his bloodline, and incredible good looks!

**In 2014, Papa became a Granddogger! His daughter, Kalamata, has had a beautiful litter of pups!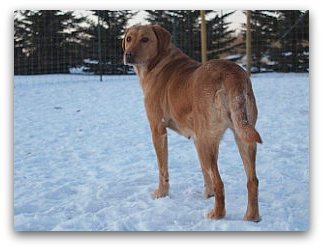 Angie was a one-time mom here at Starstruck. She was a fantastic mom, but as a member of our foster program, she was in a hurry to retire. She retired, and left behind two chocolate female pups to continue her bloodline; Biscuit and Crumpet!
Thank-you Angie! Enjoy your retirement!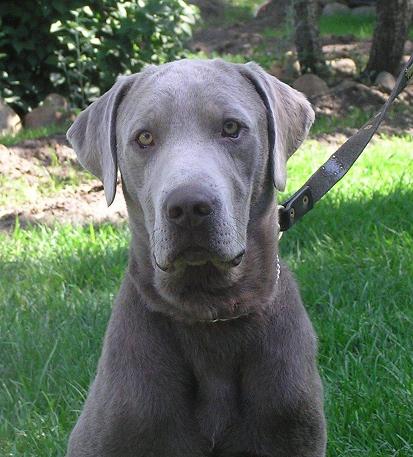 Our original stud, Duke, has taken up the position of chief babysitter and protector with his new family! His bloodline lives on in Salvator, and now Grumpy, his grandson!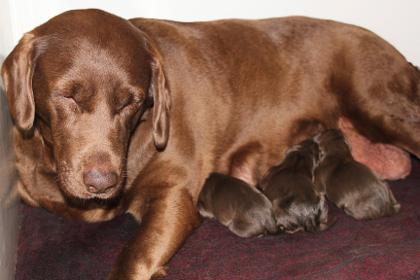 Our beautiful Foley loved nothing more, than snuggling her puppies!

A mother to Juni, Foley's bloodline lives on today in her granddaughter, Minerva, and her GREAT granddaughter, Puddin'!

Foley's amazing maternal instinct lives on in all of the wonderful female descendents! We can't wait to see the FIFTH generation of Starstruckers, from Foley's bloodline, in 2015!

Foley enjoys her retirement with a wonderful family in Alberta, and she deserves it!
Our beloved Cayenne has retired from our breeding program and has gone home with a lovely family here in Alberta! Her sons Salvator and Kiprusoff will carry on her bloodline!

In 2013 Cayenne became a GREAT-granddogger! We are watching two youngsters from Grumpy (Salvator's Son) and Lacey for future prospects!

Congratulations Cayenne!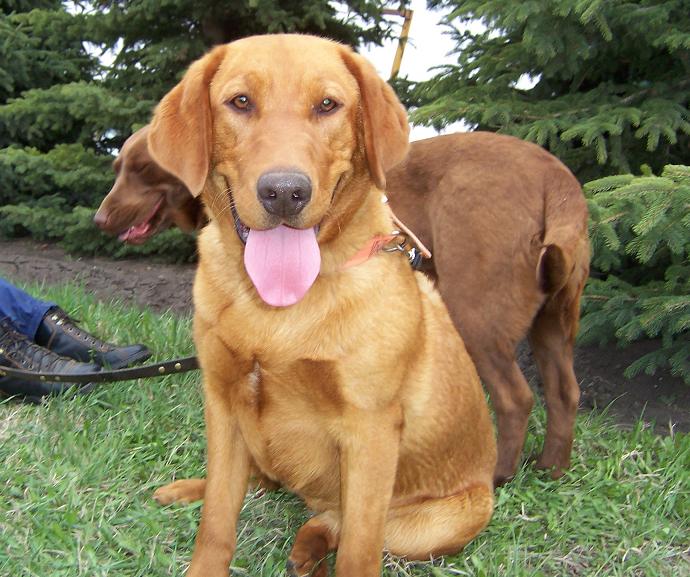 Rouge went for an early retirement! How could we blame her? After all, she did manage to wiggle her way into the hearts and home of a great couple here in Alberta!
Thank-you so much for being a great mom Rouge - her daughter Jelly Bean will be taking your smiles to a whole new level here are Starstruck in 2012!
And as of 2014 - Gummy Bear is going to be expecting Rouge's first great-grandpuppies - WHOA!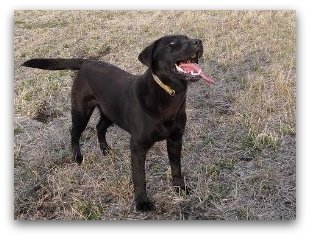 Oh Salvo! We are going to miss you more each day...but I know where you call home now, and you will be one happy boy!!!
Salvo has retired to the home of a great couple here in Alberta! Salvo has entered in a fantastic training program, getting ready for hunting in fall of 2011!
Go make us proud boy! Even though you already have, in so many ways!

Salvo leaves behind him, a phenomenal champagne male pup, Grumpy...who has been scheming to take over the world with those cute little puppy eyes!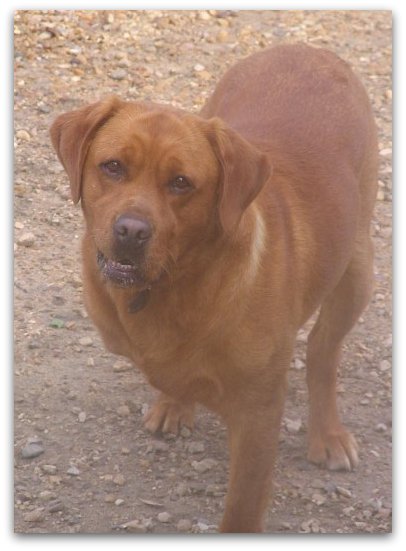 It was bound to happen! Hemsky has finally melted the hearts of a certain family, and has retired from his life as a stud. Hemsky was a fantastic father, and contributed incredible genetics to our continuing bloodlines.

His two daughters with Juno (Folo being one of them) will one day become the next stars in our pedigrees!
Hemsky is enjoying his new life with his family, complete with kids, here in Alberta!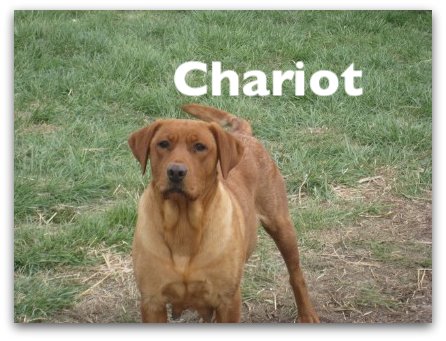 Chariot's career with Starstruck was destined to be a short one, when she had already fallen in love with a new family before she even gave birth to her first litter! Chari enjoys her new home, with her very own toy tosser, here in Alberta.

Chariot's bloodline will live on with her son, Fred who has already shown to be a great dad to Gummy Bear, Zipper, and Oxide!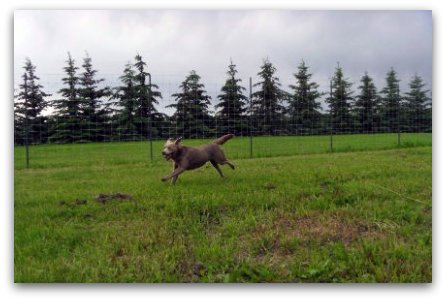 Bullet was a "long-time" stud for us! With a perfect DNA profile, OFA'd joints, clear heart, and clean eyes, we couldn't part with him until we found the right replacement - his own grandson, Ox!
When Bullet retired, he was already living with his forever family, close to home in Alberta!

Bullet's bloodline will live on with his son, Fred who has already shown to be a great dad to Gummy Bear, Zipper, and Oxide!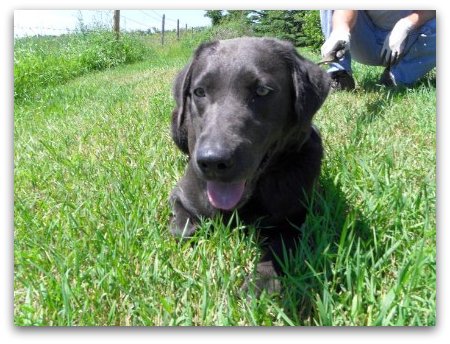 Jackie was always a reserved dog. So when she pulled to the end of her leash to meet a certain woman, interested in adopting her, I knew she wouldn't be ours for long! Jackie enjoys her retirement in a fantastic home not too far away.
Jackie had one amazing litter with us, and although we did not keep any pups for ourselves, we will be keeping tabs on a few of those beautiful, strong boys that she produced!