-Our Promise to You-
Our services to you, the buyer, do not end when you take a puppy home - that is where they begin! All of our puppies are sold under warranty, and we are committed to making the purchase of your new family member a positive one!

Unlike most warranties, Starstruck Labradors DOES NOT require your pet to be returned to get your money back! Who would do that anyway??

Our warranty is not measured in months. For FIVE YEARS, we warranty your dog's hips, elbows, eyes, knees, and heart! This is 2.5x longer than the warranties of most quality breeders.

Our LIFETIME warranty includes EIC, PRA, CNM, and DM. These diseases cripple thousands of labs. Get to know the difference between responsible breeders, and those who cut corners HERE.

We are confident enough in the quality of our breeding program that we are putting our money where our mouth is.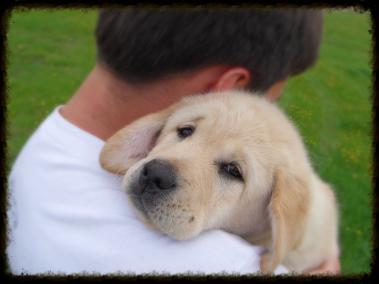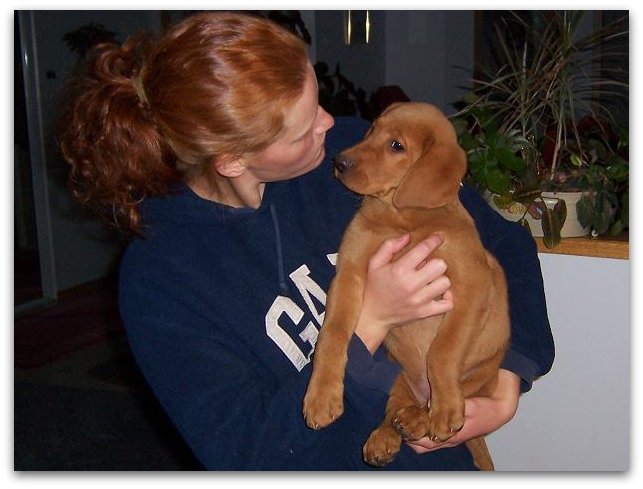 Starstruck Labradors
Non-Breeding Purchase Contract/Warranty/Return Policy
Congratulations on purchasing your new Starstruck Labrador! We have endeavoured to breed a quality pet and companion for you, and are eager to assist you with your Labrador through all its life stages. Please do not hesitate to contact us at any time!

We hope you are happy with your new companion, and ask that you give us the benefit of your referral if you ever have friends or family who are seeking a quality Labrador from a reputable breeder. We look forward to hearing about our puppies' new lives, and thank you for helping us support ethical breeding, STARS, and canine charities!

The following outlines the rights and responsibilities of ownership, and the Starstruck Warranty and Return Policy:

All Puppies bred by Starstruck Labradors are warrantied until 5 years (60 months) of age against clinical lameness or disability from the following conditions:

1. Hip Dysplasia
2. Elbow Dysplasia
3. Cardiac Issues
4. Hereditary Eye Disease (as screened by for the OFFA by an ACVO Diplomate)
5. Bi-lateral (both knees) tearing of Cranial or Caudal Cruciate Ligaments (CCLs)
6. Any other severe health problems deemed genetic by Starstruck Labradors

Pups are also warrantied for their entire LIFETIME against the following conditions:

7. Progressive Retinal Atrophy – Progressive Rod-Cone Degeneration (PRA-PRCD)
8. Exercise-Induced Collapse (EIC)
9. Centronuclear Myopathy (CNM)
10. Degenerative Myelopathy (DM)

If a dog bred at Starstruck Labradors is affected by a genetic condition from the above list, the owner will receive a refund of the original purchase price. Under no circumstance will Starstruck Labradors be liable for any more than the original purchase price of the puppy, as listed above. We are also unable to reimburse shipping costs, or any other fees in excess of the purchase price.

The Following Conditions are Required for this Warranty to be In Effect
1. Your Starstruck Labrador must have been fed TLC Dog Food kibble or a suitable balanced Raw Food diet for the duration of its life. We cannot be held liable for health concerns that arise as a result of feeding an inappropriate diet - especially corn-based or other grain-based diets, and any diet with by-products and fillers. Owners must also ensure their Labrador's vaccinations are up-to-date, and that they have regular check-ups with their veterinarian.
2. Your dog must not be neutered or spayed until at least 18 months of age, unless agreed to in writing by Starstruck Labradors. Premature neutering (castration) and spaying (ovariohysterectomy) are good social policies for preventing animal overpopulation, but they are detrimental to the health of thte individual dog undergoing the procedure. We have seen a significant increase in growth deficiencies and health problems in dogs spayed or neutered prematurely. Any potential risks to having an sexually intact dog for a short time are easily controlled through responsible pet ownership.
3. Starstruck Labradors must be informed of any health problems as soon as possible, and be involved in the selection of treatments, and the veterinarian who is to perform these treatments. For some conditions, we may require the additional opinion of our veterinarians, to be done at our own expense.
4. No monies are refunded if the dog's condition has been caused in whole or in part by neglect or any other environmental factors. All costs for diagnosis and treatment of any health conditions are to be paid by the pet owner. The buyer of a Starstruck Labrador understands the importance of nutrition, medical care, and reasonable exercise for their new pet, and will not allow the dog to be neglected, abused, or overweight during its lifetime.
5. This dog is not to be bred, accidentally or otherwise. If this dog is bred, or sold to a person who breeds this dog, Starstruck Labradors reserves the right to take possession of the dog until it is spayed or neutered. Any costs incurred as a result of these actions will be at the expense of the original purchaser.
Cases of major, chronic, or fatal illness, not related to the normal aging process, will be handled uniquely for each dog. Starstruck Labradors' warranty coverage is limited to dogs who are actually demonstrating health problems. Diagnoses of potential issues solely from diagnostic imaging are not covered.
This warranty includes the Lifetime Return of any dog purchased from Starstruck Labradors, with compensation provided to the original purchaser based on the re-sale value of the dog. A thirty day assessment at our kennel is required to determine the value of the returned dog.
This warranty is non-transferable. However, we gladly accept the return of one of our Labradors at any time if you are unable to continue caring for it. If you do not have another suitable home for the dog within your family, we require that the dog be returned to us. This avoids the possibility of our dogs ever ending up in animal shelters.
By signing this contract, you (the purchaser) indemnify Starstruck Labradors from any liability resulting from the dog's conduct or actions, and from any future claims beyond the warranty rights specified in this document. The dog's behavior and health is the responsibility of the purchaser, and training, due diligence, and a high standard of care are the best ways to ensure that your dog lives a long and happy life as a good canine citizen.

Signing of this document by the purchaser indicates that the purchaser understands and legally agrees to all of the above.

Signing of this document by the breeder indicates that full consideration has been paid, and this dog now belongs to the buyer.



X____________________ X_____________________ X___________________
Purchaser Print Date of Purchase



X_____________________
Breeder

Starstruck Labradors
RR#1, Three Hills, AB, T0M 2A0
starstrucklabradors@gmail.com / www.starstrucklabradors.com